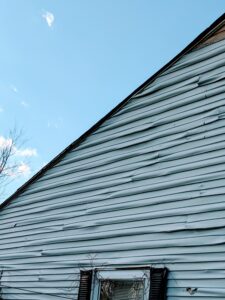 Here is another version of a vinyl siding nightmare.  This is another complaint from the Consumers Affairs website where the consumer stated that their vinyl siding had started to wrinkle.  Part of the claim process was to cut off a piece of the siding and mail it to their technical department, and also paying the mailing costs to do so.  Now not only is the vinyl siding wrinkled but the white Tyvek is exposed in the spot where they had to cut out the defective vinyl siding. After waiting a good amount of time they received a letter stating that is not a product manufacturing failure, but is due to an excessive external heat source. The neighbor's window was reflecting onto their home.  If you google melting due to excessive external heat you will find articles saying it is because the vinyl siding is not built to handle high temperatures so it melts and distorts.
There are many claims that are submitted every year to vinyl siding manufacturers regarding this problem and the vinyl siding manufacturers do nothing to resolve the issue.  The only thing that seems to have happened is that vinyl siding manufacturers have updated their warranty to ensure they don't have to pay claims against their faulty products.
MAXWALLPRO has the solution to vinyl siding nightmares with our Steel Siding Systems.  You will not have to worry about steel siding wrinkling.  Our products have the durability you are looking for. And remember, a lifetime warranty that keeps you worry-free.
Thanks for taking the time to read our blog.
P.S.!!! – GO to our Contest Page and enter for a chance to WIN 1,000 square feet of our Steel Siding System, a $ 10,000.00 value!
MAXWALLPRO LLC
1-855-MAXWALL
1-855-629-9255