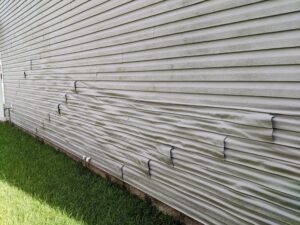 Well true summer is now upon us.  Many families are taking their vacations at the beach or on a cruise to beat the heat.  How do you think your house is fairing?  Is that Vinyl Siding getting a few extra waves in it from the sun?  Is that paint peeling just a little or a lot more?  How about the Cement Board, is it getting chalky from the sun?  You and your family have taken time to rejuvenate yourselves so how about your home?  It keeps you safe and sheltered from the elements all year long, don't you think it's time to give your home some needed TLC?
Just like you and your family your home needs and deserves to be treated to the very best money can buy.  It needs to be protected from the unrelenting pounding day after day from the sun's ultra-violet rays. Ordinary Vinyl Siding, Ceramic Coatings or Cement Board cannot provide the protection that MAXWALLPRO's Steel Siding Systems can provide.  Remember that our Steel Siding Systems reflect up to 77% of the sun's rays.  It's like a beach umbrella for your home, only it offers a 100 times more protection, along with energy efficiency, protecting your home or building from the sun's rays and all of the other elements Mother Nature has to offer.  So now that summer vacations are coming to a close it's truly time to consider giving your home the TLC it really does deserve.  Please go to our Product Comparison Page and check out how much better our Steel Siding Systems are compared to Vinyl Siding and Cement Board, you will be amazed at the differences.
Our Steel Siding System will not peel like paint, fade, chip crack or warp like Vinyl Siding, or get chalky like Cement Board and require painting.  We will provide the insulation you need unlike Ceramic Coatings.  Please call us at MAXWALLPRO, we will be happy to answer any questions you may have regarding our wonderful products.
As always thank you for taking the time to read our blog.
P.S.  Go to Our Contest page and enter for a Chance to win 1,000 square feet of our Steel Siding System, a $10,000.00 value!
MAXWALLPRO LLC
1-855-MAXWALL
1-855-629-9255